Plugins - Profile
Mybb Game Library 1.0.0
von
Swift-
The Mybb Game Library provides functionalty for Admins to add Games & Consoles to their board, which your board users can add to their "Game Libraries" and challenge other users.
60 Downloads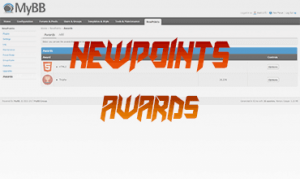 Newpoints Awards 1.0
von
chack1172
Newpoints Awards is an extension of the plugin OUGC Awards. It allows users to buy some awards with newpoints.
13 Downloads


Profile Visitors 1.9.0
von
lukasamd
This plugin displays last profile visitors in member view like Invision Power Board.
61 Downloads